WGL Winter Groups C & D
03.12.18 |
UgriWC3
992
Our final groups marked the entrance of several heavy favorites, such as Moon and Infi (group C) and 120 and LawLiet (Group D).
The games were also marked with real efforts by Western representatives to balk our predictions. HawK, Sonik, Hunter and especially Cash, performed overall way better than expected.
We've included the final playoff bracket at the bottom of this article also.
Hunter, from hospital to main stage
Luck has also not been on Hunter's side in China. In 2016, he was allegedly mugged in Yinchuan, for WCA, after having to forfeit three quarters of his matches due to visa issues. During GCS Summer 2018, as the first American to compete in the Golden League, he had to regame a map he was obviously winning against Infi due to a mysterious bug that had his opponent lose all his resources while expanding.
And so, a few days ago, I honestly expected the Peruvian to just forfeit the tournament. He was in such pain, spending all his time between his hotel room's bed and the hospital. But his determination showed, as he stuck to his tournament schedule as closely as possible.
Hunter ended his first day In Group D with two defeats, without scoring a map against FoCuS or HawK. His condition had improved that morning, but honestly he was maybe at 60% of his capacities, staying in a wheel chair and still in pain while playing. I do want to point out that Hunter had his leg checked at the hospital and was deemed ready to play by the doctors.
On Day 2 his condition and mood both saw further improvement and we saw him lead [1-0] against Sini on stage before eventually being defeated. He even continued to take a map off of 120 later in the day. It was a great performance for him, Peru and the Americas overall. His performance and dedication shown on stage was applauded by the crowd, well deservedly. Hopefully the next time we meet Hunter it can be under better circumstances. We wish him a speedy recovery in body and mind.
HawK vs LawLiet, game of the year?
HawK was placed in the same group as Hunter and was considered a huge underdog against the likes of FoCuS, LawLiet and 120.
He finished his group with a [2-3] score and was clearly disappointed. The series against LawLiet [0-2] and FoCuS [1-2] were lost on tiny details and he was definitely within reach of winning both times. Remo tweeted that HawK's match against LawLiet could be elected "game of the year". We highly recommend watching it and you can judge by yourself!
On a more positive note, HawK did finally put a series to his name in China, his third time attending an event here. His victory against Sini was very convincing. With his continued hard work, and a patch that potentially sees some upside for Human players, who knows how far HawK could go?
FoCuS and LawLiet, stronger than 120
Group D was a three-way affair and so we already knew we would have to lose one favorite in the fray. I really expected FoCuS to be the one to go down, but surprisingly it was 120 who yielded [1-2] against both Koreans.
While his under performance at the tournament was a surprise, the real memory that stuck with us was his requests not to have some of his games streamed. Due to that it seemed, Khaldor was removed from his first series against Sini while his last match against HawK was preponed and played privately. I definitely speak for all fans of 120 and Undead when I say that it was an unwelcome and disappointing surprise.
Sonik entertains, but disappoints
We had high hopes about Sonik's chances in his group. His recent performance in WGL where he beat Foggy [3-0], added to his semi-final placement in Shenkui Cup, had us hoping for a strong showing here in Shanghai. Alas, Sonik won no series and even lost [1-2] to Pcg. Sonik is and remains very irregular, sometimes mixing geniuses moves and rookie mistakes in the same game.
But, I'd like to talk about Sonik some more. I've gotten the chance to spend time with him these last few days and really appreciated his positive personality. He spent a lot of his own time helping Hunter when he suffered the most and was outgoing and pleasant to be with throughout.
His entertaining entrance on stage, with a soon-to-be-legendary imitation of the Keeper of the Grove, was also hilarious!
Cash, one shop away from qualifying
I was so convinced Cash would end up in last place that no one was more surprised by me at his eventual results. Playing with the flue, qualifying only thanks to an extra slot granted to Europe, his chances looked minimal.
However! Cash finished with the second-best score from all of our delegation [3-2]. As such, his initial defeat against Infi will give him much regrets unfortunately. At [1-1] Cash was pushing Infi's expansion, killed both of his opponent's heroes and it looked like he was about to create the biggest upset ever in a Golden League match. Sadly he built his shop too late to give his heroes the crucially needed health and mana they needed to finish the push.
Cash did go on to win three series against Sonik, pcg and Xixi however. Very, very well done to him!
Moon dominates Infi
The potential shocks in this group never really took place. Moon went right ahead and won all his maps in his group and affirmed himself as a strong favorite for the title. Infi decided to play Human and was quickly defeated with his now signature move, an early "gg" that puzzled fans and commentators alike. So when I consider InfI, well, I am not sure what to write about him recently. He played three different races during the group stages and even went Beastmaster and Pit Lord first against Pcg in Undead mirror played on stage.
Since the players were not taking the game very seriously, the commentators also decided to have some fun. Back2Warcraft brought on Neytpoh and Foggy as substitute casters and gave us all a good laugh.
Playoffs with Orcs and Night Elves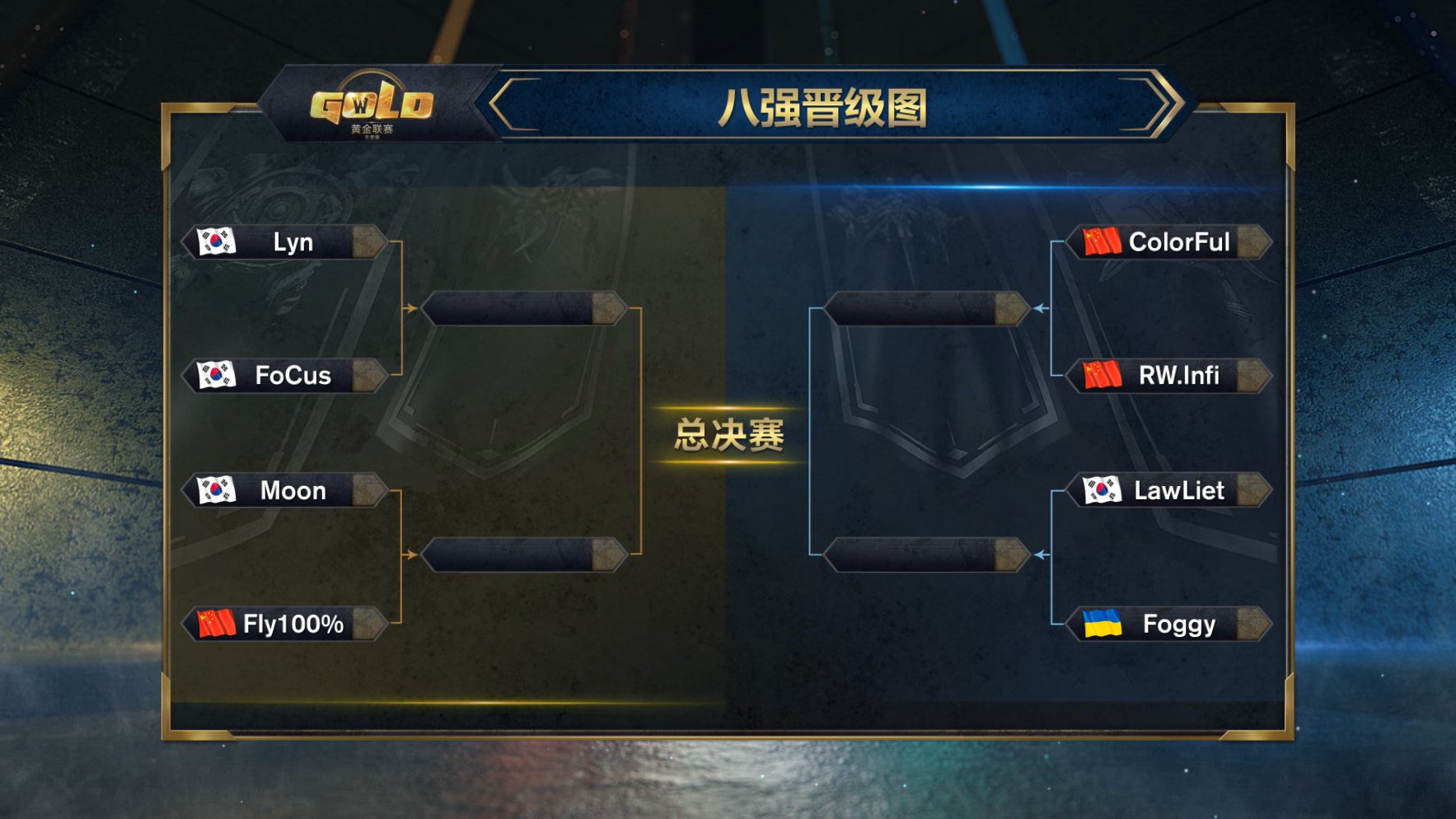 Looking at the matches, my opening thoughts are as such:
Lyn vs FoCuS: Lyn is a huge favorite as he rarely loses orc mirror.
Moon vs Fly: Moon has so far achieved a perfect [10-0] record, while Fly really struggled to qualify. He does not seem to have the necessary answers against the best NE in the world right now.
Colorful vs Infi: This is hard to predict as Infi could play any race with any hero first it seems. I predict he will go Human and that something will happen making him gg out.
LawLiet vs Foggy: LawLiet has been stronger than Foggy recently. They both impressed in the group stage, but LawLiet maybe even more so. He does not like NE mirror however. It is really 50-50.. I cannot really make up my mind!
With the end of the group stages, we also say goodbye to the second and third stream we have enjoyed over the past days. Khaldor and Hi2Chaco will not be streaming further games directly, but Back2Warcraft will continue to keep us updated and in the action throughout, until a final victor is crowned.