Happy birthday, Warcraft3.Info! When I bought this domain one year ago, I had no idea it was gonna make it that far. In order to celebrate our birthday, I have prepared a timeline with some of the milestones along the way. How did it all begin? Let's find out!
How did it all get started?
Everything started in March 2017. At that time I was very interested in methods of automatic data collection and had a lot of time on my hands. I thought I could combine my intent to improve my programming skills and my desire to promote smaller Wc3 events by providing tournament stats. At that time, the data quality on Liquipedia was much lower than it is now and they did not really track minor events.
Once I had collected some data, it was time to make it accessible to the public. I was already paying web hosting fees for some other projects and bought the domain warcraft3.info.
March 22nd - Baby Steps
Here's the first image I posted on Twitter about the project: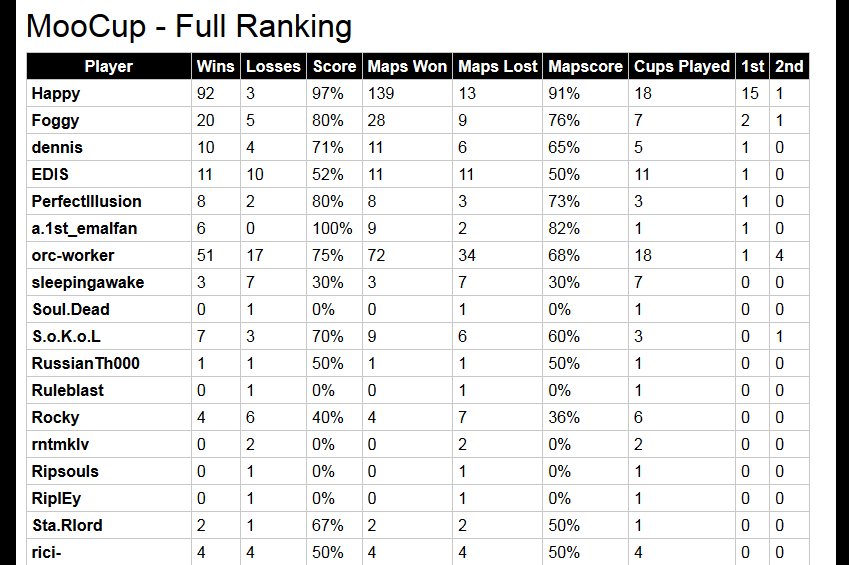 I made the database public a few days afterwards. If the website has an actual birthday, then it is probably the 22nd of March.
April 6th - I like green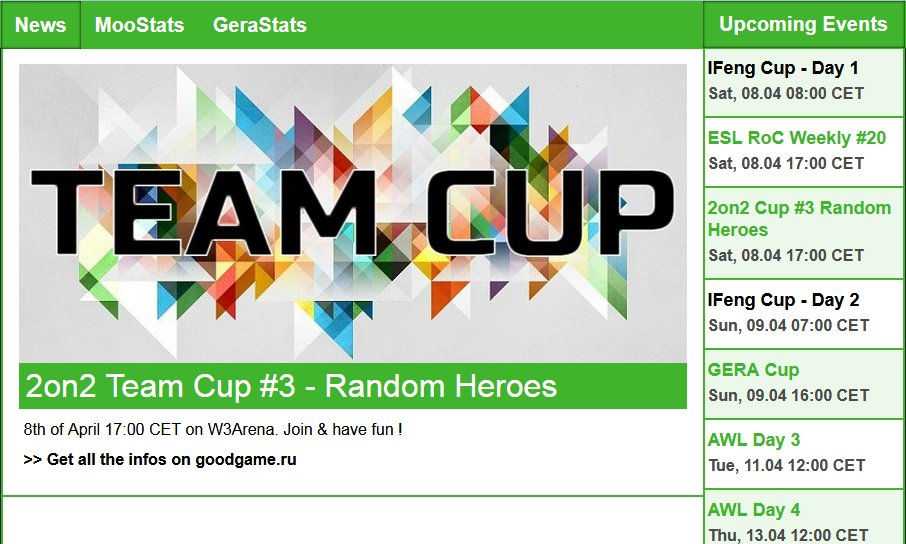 I started adding more stuff to the website such as new and a calendar with current events. I didn't have a lot of experience in web design which probably shows. Fun fact: The whole website was developed on a tiny notebook while I was travelling around Europe.
April 17th - Even more features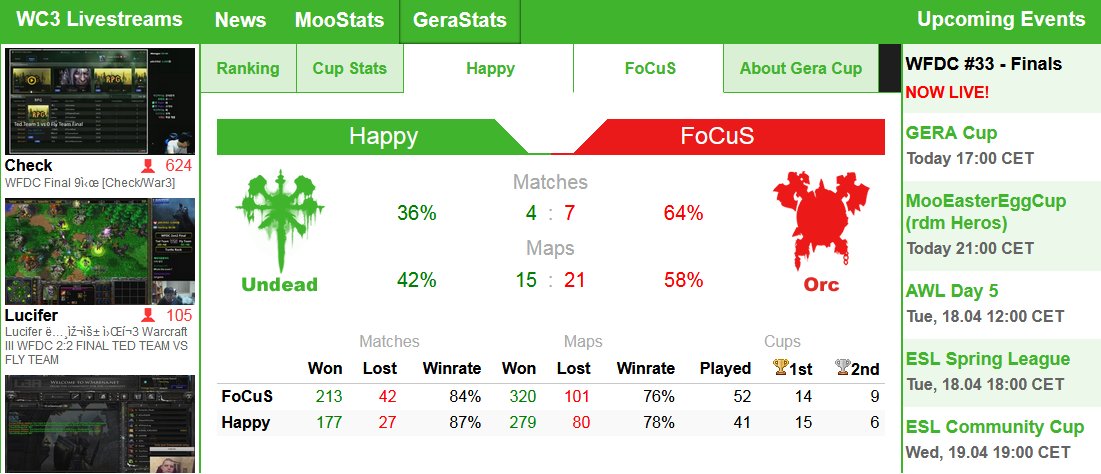 Since I had lots of free time at that moment, development progressed quickly. I added streams and continued to improve the stats section.
My main vision behind adding features such as calendar and streams was to show people who visit for stats that there are many other things going on in the Wc3 community.
April 26th - I guess I'm an author now
My first article was a comprehensive report about the audience sizes of various Wc3 streamers on Twitch. I still have the data but the article is not available anymore. It contained many large tables with fixed dimensions which look horrible in a responsive design. Furthermore, it's outdated by now.
A few days later, I wrote a brief article to promote our small Wc3 community on Twitter. It's a bit outdated by now but still available to read.
May 9th - Project Farsight & Fantasy League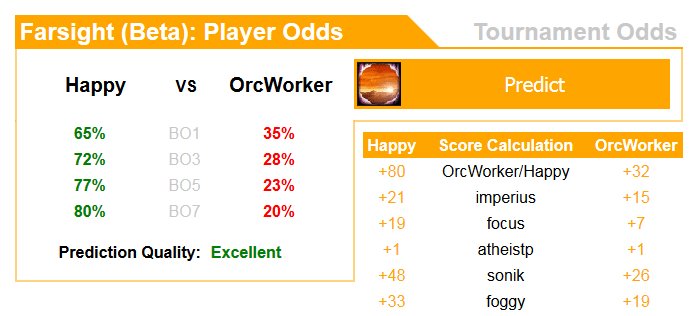 The development didn't stop and I added more features. Project Farsight was an algorithm that tries to predict the outcome between two players. Given sufficient data, it performed fairly well. When the whole website was rebuilt months later, I didn't migrate the algorithm. Maybe I will build an improved version in the future.
I also created the first Gera Cup Fantasy League. Season 2 and 3 followed. Even though there won't be more Gera Cups in the future, we might have a new Fantasy League once I get to rebuild the system. By the way, I still have the old data to keep track of our overall ranking ;)
May 24th - Ugrilainen joins
As the website grew, I wanted to get more unique content. With all the time I was already investing into development, there was only so much I could write on my own. I saw that Ugrilainen wrote most of the articles with higher quality in the western scene, so I asked him to write for me. Even though I couldn't offer a large audience and had not even built a real back end for authors, he accepted. His first article released on the website was an interview with AtheistP who went to China.
If you want to now more about Ugri, here is an interview that we released in June 2017.
July 3rd - Mrwhite joins
Ugrilainen also brought Mrwhite in. They had worked together at the editorial section of W3Arena. Mrwhite focused on articles about tournaments and leagues. His first one was about NWC3L.
July 17th - MR_Moonstruck joins
If I recall correctly, MR_Moonstruck was looking to contribute in the community and Neo sent him to us. He was the one who started off the weekly Gazette. Here is the first article. He has worked on many other articles as well.
Note: The Gazette was discontinued at the beginning of this year since it is tons of work to keep such a series going on a weekly basis.
August 10th - Development doesn't stop
While we got all of this great content, the development continued. The website had changed a lot and was getting more attention - even outside of our western community.
One of my favorite features is the tag system that automatically connects Twitch streams with calendar events.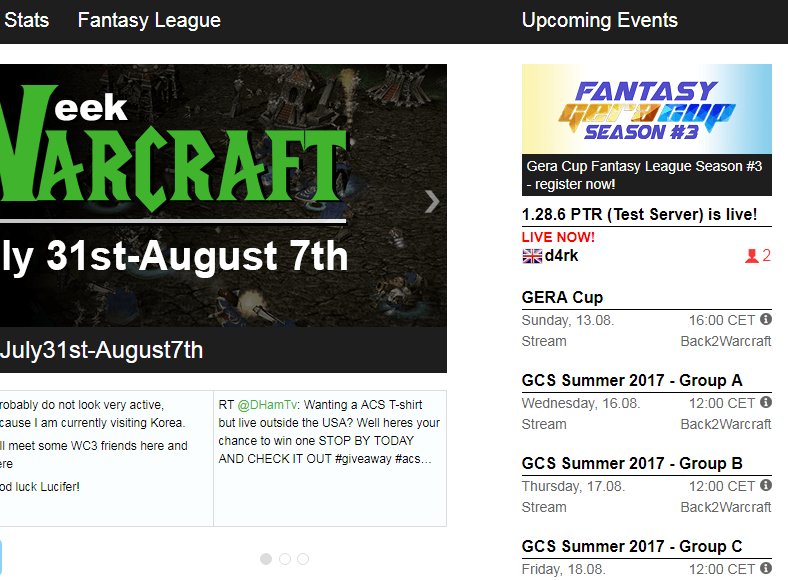 August 31st - RehcraM & Pimz join
We released an article to search for more authors. The response was really good but many people who are interested at first never actually deliver. In the end, the call for authors left us with two great new members to our team: RehcraM and Pimz.
Fun fact: RehcraM was actually going to leave shortly after joining our Discord since there were so many new people. He thought there was no need for him! Luckily, I convinced him to stay and he became one of the bigger players behind the scenes of the Wc3 community. One of his initiatives is the Content Creator Highlight. He has also spearheaded the strategy section. By the way: It's his birthday today as well. Happy birthday!
Pimz was mostly looking to help our authors with proofreading since he has a background in academia. Thanks to him the quality of our content has improved a lot. Furthermore, he has also contributed towards the content of many articles.
September 7th - The team grows & replays!
Supercutezombie joined our team and released an article about Wc3 RoC. I also need to mention that we've had many guest authors along the way such as Parasect with his earning reports. I am very grateful for all the contributions. We also got people like Stowka and Hi2Chaco who help with streams and aka data.
By the way: If you are interested in writing for us, send me an email or tweet to Warcraft3.Info ;)
The improvements of the website continued with a new Replay Section which has become one of the most visited parts of the website.
December 3rd - Let's delete the whole website (and rebuild it)
This was my biggest endeavor yet: In October I was approached by someone who suggested to rebuild the whole website in a more professional framework. The website really needed an overhaul from the ground up. It was going to be a lot of work but I wasn't going to have to do it on my own - or so I thought. My helping hands dropped out quickly and I ended up doing it on my own. I learned a lot during that time but the work load was insane. After 2 months of work, I released the website that you're currently seeing. Of course it has been further improved since then.
February 21st - The Motherload!
The big patch announcement: 24.000 views on an article that didn't even contain the patch notes. That's just crazy and by far the most views that we have on one article.
Our Birthday Stats
Page Views: ~400.000
Articles written: 116
Article views: 120.500
Replays uploaded: 3.500
Replays downloaded: 78.000
Twitch Streams: 552
Thanks guys
It started as a one man operation. Now we are a team. Without all the people who contribute, I would've lost motivation a long time ago. Writing this article made me read through many of our older articles. I can really recommend checking some of the older ones out. Especially the interviews have aged very well!
But I am not just talking about authors. For example we have Stowka, who has added most of the 550 Wc3 Twitch streamers in our database. His work is incredibly valuable to ensure that we give content creators more exposure and to prevent us from displaying Wc3 streamers that actually only play games like Dota.
Hi2Chaco has helped a lot with adding akas to our system. Elven_Star and X3DemoN are uploading great replays. Turbosau and the Liquipedia crew have made it way easier to get lots of high quality tournament data. Neo has been a big supporter of the website which means a lot. There are many more. Sorry about not mentioning every single one!
Thanks a lot to all the people who visit the website and leave a comment every once in a while. It does not go unnoticed and we are happy about every single one. It's also great to have so many visitors outside of the western Wc3 scene. This is what keeps us going. Let's go for another year!
Cheers,
David